Angthong Marine Park Overnight Adventure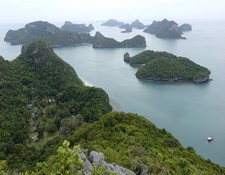 Angthong Marine Park is a really amazing place to discover...
With its 42 islands sculpted by the sea wind and rain>...Erosion has given all these lime stones covered with primary forest strange appearance of silhouettes. The wind-driven water had perforated the islands of tunnels and caves... The kayaks we have on board allow us to explore them in detail and to sneak in some hidden places...