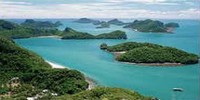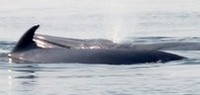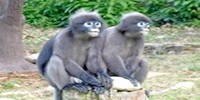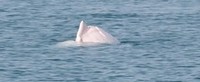 Angthong Marine Park is one of the most attractive place in the Gulf of Thailand and it is quite crowded during the day ...
This is why we decided to conduct our cruises on two days for visiting the busiest locations when they are deserted ...
The Marine Park has the chance to host several rare species of animals on land and in water ...

Only visit outside of peak hours allows us to see Dusky Monkeys, Hornbill Birds, Pilot Whales, White Chinese Dolphins ( also known as pink dolphins ) and some months, with the chance, to see Minkle Whales passing by during their annual course through oceans following plankton's migration or meet with a Whale Shark ...

Angthong Marine Park is really an amazing place to discover...
With its 42 islands sculpted by the sea wind and rain...Erosion has given all these lime stones covered with primary forest strange appearance of silhouettes. The wind-driven water had perforated the islands of tunnels and caves...
The kayaks we have on board allow us to explore them in detail and to sneak in some hidden places...